Recently I was sitting through a marathon show on a cold night at the race track and it hit me. Efficiency is the key when it comes to tracks getting support from fans nowadays.  Being a die hard fan, I'm most likely going to go to the race track regardless, but the less and less people you see at a race track and that track runs a show that is not run efficiently, you can rest assured that they have no one to blame but themselves.  Look we all love dirt track racing, that is besides the points, but a show that has numerous breaks and takes forever will run fans to different race tracks more often then they will win new fans over.
If you look at race tracks that are well respected among racing fans, they all seemingly run efficient shows.  I am a firm believer that any show that has a support division should never have a break.  The show should run freely from one heat race to another, and then when feature time comes runs from one feature to a victory lane interview straight into another feature is a track that I respect and will support as long as the racing is enjoyable.  A race track that never has anything ready is a track that is being run inefficiently.  For instance, when I'm at the race track with all of the technology that is available to us today I will have heat race lineups immediately after time trials.  So why are there certain race tracks that if I can put together the heat lineups immediately after time trials, cannot post heat lineups until right before the heats are supposed to start.  This is inefficiency at its best.  There is no reason that any race track that is running a time trial show to not post heat lineups within 5 minutes of time trials being completed.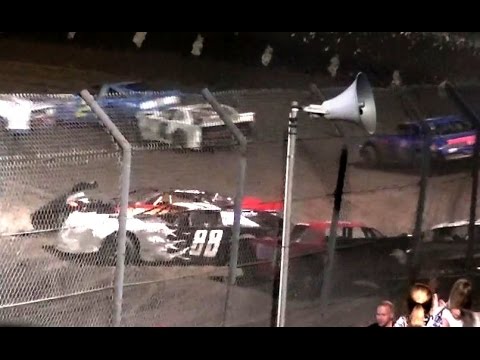 One of the major infractions of efficiency that you see with race tracks is the inability to keep the show moving.  Most race tracks are very good at this, but there are some instances, and we've all been there and done that where you feel like you are being held hostage at a race track.  Sometimes this is due to breaks in the programs, but a lot of times this is due to the fact that the track is running too many divisions in one night.  If you are running a major event with a high paying purse, or a sanctioned event there is no reason to have more then 2 support classes.  Any more then that and you are just prolonging the show, and there are plenty of people who will stay home when they see a ton of support divisions on the schedule.  Another infraction that is a minor one but still eats up too much time is extended warm ups.  There is no reason for a race track to run warm up sessions that are longer then 3-4 laps.  It's a period to warm up the cars, not run a warm up session that runs more laps then the heat races.
Now there are reasons for a show to drag on that are acceptable.  If there is a long and extended red flag period for a wreck that is out of the track's control, and the track is being inefficient by taking the proper amount of time to ensure the safety of the drivers involved in the accident.  Other then that though if a show lasts more then 4 hours, it's just too much.  Another instance where a track can take some time that is acceptable is if they take a little extra time to work on the racing surface when it is not racy.  We all want to see a good show and if the track prep isn't good to start out with there is nothing wrong with putting some water on the track to ensure a good feature race.
Look, we all love dirt track racing, but if you're being honest with yourself you enjoy a show that is run as quickly and efficiently as possible, and that is something that all race tracks should be striving to do.