This Week In DIRT- Tough Steak and Cheap Wine?; NSL Goes "Harry Potter" ;Parts Peddler Revelations; Gallardo and Rossi Score Wins

We're back again with yet another edition of your favorite recap of the week that was in DIRT.  For those of you in Buffalo, our apologies if you can't read this because you've had no outside communication, and we hope you are safe and on your way back to life as normal as soon as possible. And if it makes you feel better, you didn't miss much!



For those of you outside of Buffalo, you won't friggen believe what you missed this week!! Rough meals at season ending banquets, A newly formed sprint organization has taken the "Harry Potter" route in determining schedule for 2015, and Fito Gallardo (one of the greatest names in all of racing) kicked ass and took names in El Paso!

Something may have kept you from tuning into to the goings on this week. Maybe it was hard for you to keep up because you were being pursued by bookmakers. We get it, you came into some cash, some NFL game looked like sure bet and the idiots threw the game in the 4th quarter. It isn't your fault, but you were light on cash and now you're staying at one strange house after another, assuming different names and changing your appearance by shaving off that ridiculous looking pornstache and dressing in women's clothes.

Perhaps you were ill. One of your annoying co-workers sneezed all over your telephone and forgot to tell you that they had a not quite deadly stomach virus that eventually infected you, causing you to run to the crapper fast enough to pass Usain Bolt on the way to the last seat in the stalls while your backside rode the porcelain Honda for an eternity.

Don't worry, we've got you covered! So if you are still in the can, hanging on for dear life and you've got your cell phone in hand, you can still check out what you missed on "This Week in DIRT!"





Parts Peddler Trade Show and DIRTcar Banquet Invades Syracuse

The city of Syracuse, NY, which is located near the origins of cuisine favorites such as "salt potatoes", "garbage plates", and ribs at the locally infamous "Dinosaur" played host to local racing prince's, and dregs of society alike this weekend during the Parts Peddler trade show and DIRTcar banquet.

The annual trade show basically consisted of innumerable vendor booths selling everything from full rolling chassis' to firesuits, to hand gathered used tear offs ready to fasten to a brand new Bell helmet for 2015.  But also, it provided a chance for drivers to rub elbows with promoters, car and engine builders and potential sponsors with the hope of improving their edge on the competition in the coming season. 

So far, little news has come out of the Parts Peddler other than a DIRTcar modified rule change which now requires many time stretched part time drivers to spend the winter fastening a new bar on their roll cage. And, that Utica Rome Speedway has now been purchased by Bill Shea who will take over effective April 1.




During the weekend's festivities, the annual DIRTcar awards banquet took center stage on Saturday night. Overheard at the festivities by one of our TDN correspondents was one Dr Danny Johnson who remarked "This steak still has marks where the jockey was hitting it!", while at an adjacent table, an unnamed gentleman was heard saying "I'd rather have a case of the clap than a case of this wine!" Johnson's comments prompted a driver at another table to shout "Shut up and eat your damn veggies Danny,  the steak's just fine!"

Other than an exchange of well thrown dinner rolls between Stew Friesen and Matt Sheppard which almost erupted into a full on food fight, the excitement turned from food to awards as Billy Decker gave a speech thanking the crowd for still showing up to see him accept his championship trophy despite the tough steak and overly sweet Riesling wine.

Erick Rudolph was named 2014 "Rookie of the Year"

Stay tuned to the news that comes out of the weekend's festivities at Dirt Track Digest.

Newly Formed Sprint Tour Elects "Harry Potter" Scheduling Method:

The National Sprint League, a newly formed Midwestern 410 sprint car racing tour, put out it's preliminary schedule release recently, with a few confirmed dates, but an overwhelming majority events taking place are taking place at "TBA" Raceway in an unknown location.

One of our correspondents contacted NSL officials to confirm the whereabouts of said raceway and can now confirm that there's more to the story.

"We've really got something special with our TBA dates in 2015, something nobody has ever done before," said the official. "We thought about it, and decided to purchase the Goblet of Fire! That's right, the cup from one of them there Harry Potter movies. It'll set the standard in scheduling we figure."



When asked exactly how this was to help determine the final tour dates the official responded, "What we're asking all interested tracks, is that they write their name on a piece of blank paper and send it in to us, we'll put them in the that silver cup right there and it'll spit out the winners for us. It's completely up to the cup but the good thing that we all know that the cup is never wrong, so really there's no way for us to lose here."
Adn


According to the gentleman, you can expect the rest of the schedule in due time. "It's really up to the cup and that's about all we can say right now, but it's really gonna be a great year!"

Seriously…you can check out the current schedule which looks to have a really strong field of drivers and will feature the return of 410 racing to some places that were running 360's throughout the Midwest by clicking here: National Sprint League Schedule  Should be some great racing!

Domination of Crate Locals in Ocala Thwarted by Rain

The $10,000 Nesmith Crate Late Model Series Event at Bubba The Hunk of Love Sponge Speedway and Pleasure Club, in Ocala, FL was officially rained out on Saturday night.

The rather large field, which contained local, regional and touring crate late model racers, who normally just race for good times cheap beer and the camaraderie of the pits, were spared a severe beating from the likes of former and current World of Late Model champions Josh Richards and Darrell Lanigan who'd set their sights on taking the group of amateur thrill seekers to task.




One local crate racer who wished not to be named remarked, "I really think there's a problem with those tough guys coming in here to take our money. I mean really, don't they earn enough on tour, do they need to beat us to feel better about themselves?

When asked to approximate how much the driver had spent on their car in order to gain an understanding of the discrepancy between Richards, Lanigan and other invaders while in completely "equal" cars, the unnamed driver responded, "That's none of your damn 
business."

Meanwhile, DIRT nation rejoiced when Richards seized the opportunity caused by the Ocala rainout, to jump in ump modified and late model driver Kyle Bronson's car at East Bay Raceway Park Saturday night.  Richards won, besting a 13 car field in the triumph.

He'd missed almost the entire season due to some nerve damage, but managed a win in 2014 anyhow. And even though it was of the local short track variety, we at TDN can say with confidence that the dirt racing landscape is much better and more interesting with a healthy Josh Richards in it, he was sorely missed! Thanks for one last Saturday night Mr. Richards! For the press release click here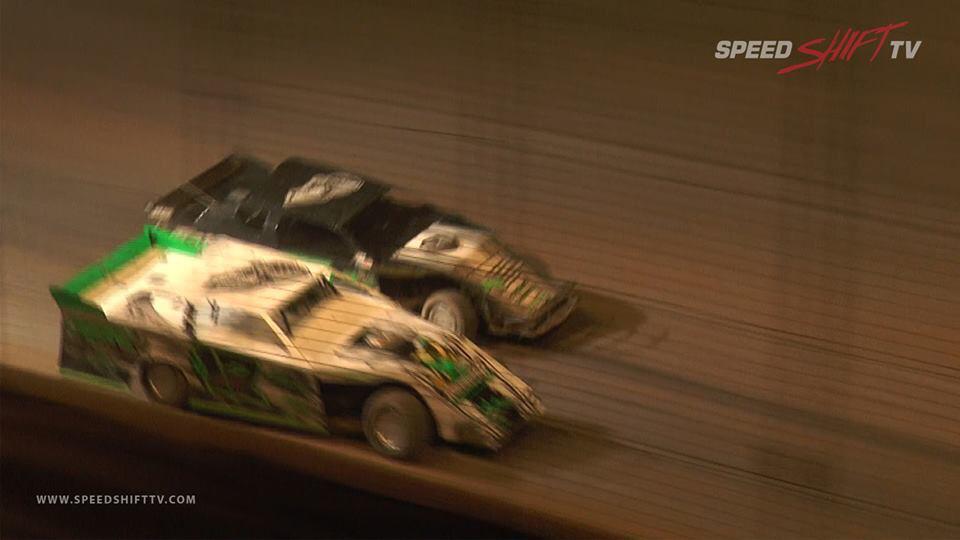 From SpeedShift TV

Fito Edges Jake

Co-winner of TDN's best name award, Fito Gallardo (damn that rolls off the tongue), capped his 2014 with a photo finish victory over his son Jake at El Paso Speedway Park Saturday night on the final night of the "Turkey Hunt".
Gallardo, this year's USRA modified national champion has had a 2014 to remember. He'd started the season in Tucson in January with three straight failures to make the show, and ended up in November with 15+ modified victories in the southwest.

Fito, you're one of our favorites here at TDN, and we'd like to give you a proper salutation in Spanish nonetheless at this time…

"Felicitaciones por un fantástico 2014 el Sr. Gallardo! Que tu filete ser mejor que Danny Johnson en el banquete DIRTcar!"


Also at the Turkey Hunt, Billy Moyer Jr held off another modified star who's been very good in a late model too in the way of Rodney "The Sandman" Sanders to sweep the late model portion on Friday and Saturday nights.  To check out the full field rundown for both the modifieds and late models from El Paso, click here
TWC Photos


USAC- Matt Rossi wins- holds victory lane girls hostage

In what might be considered a mild to huge upset on Saturday night, local driver Matt Rossi bested the USAC Sprint Car field at Arizona's Canyon Speedway Park during the Western World Championships.

 The field, which included Brian Clauson, Robert Ballou, and Brady Bacon tried their hardest to fight back after Rossi took the lead in the middle portion of the 30 lap feature event, but Rossi was not to be denied.
Following the win, Rossi inexplicably held the two nice looking victory lane girls hostage with a newly presented rifle. "The money's nice, the trophy is great, and it sure is great to win in some of my fans, but why can't I just keep these two girls, they're fantastic!" said Rossi. "Naw, seriously can I just give the money back and keep the girls, I won't keep em long!'

You can read all about Rossi's upset win here

And that'll do it for this week! We've got a special driver story coming up later this week and a Thanksgiving to remember from us at TDN. Have a great week everyone and stay DIRTY!
Be sure to check out these helpful reads currently on our site!
Our Final Northeast Modified Rankings
Our Final Winged 410 Sprint Rankings
TDN Guide To Australian Racing- Follow the Action Down Under